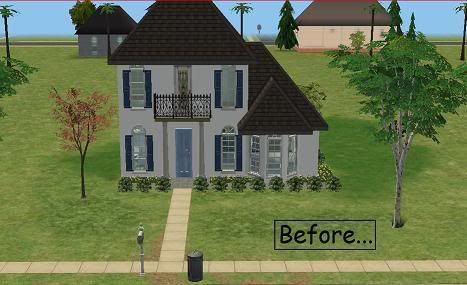 Introduction
Hello once again, I am here to showcase my latest lot, my renovation of Pleasantview's
190 Sim Lane
. It is an existing lot in the neighborhood, so if it hasn't been demolished or renamed in your game, you'll have to give this lot it's own address. I decided to renovate this particular house, because it had such a great, open floorplan. Unfortunately it had an ugly exterior, and, as with virtually all Maxis houses, it's interior needed its fair share of work! There is a
minimal amount of CC
, all of which are
recolors
of Maxis objects that came with the base game and Nightlife. No hacks are used. The house is fully furnished and decorated inside and out.
The Lot
With this house, I kept the structure in tact, with a few exceptions. I got rid of that bulging stone cover for the fireplace, which took up the entire back of the house. I also reconstructed the roof as to add a more authentic colonial feel to match the change in exterior design. I added a swimming pool in the backyard, and a two-car driveway. I also changed the placement of some of the windows. I also changed the front and balcony doors, and recolored the blue shutters to white. The biggest design change is with the outside walls. I changed the pasty white plaster to a colonial design of brick on the front walls and white siding on the sides and back of the house. I added some more landscaping, and made the lawn nice and green. Also, I added wrought iron fencing around the backyard / pool area. The inside had the most work done to it. I didn't change the floorplan at all, but I expanded the kitchen slightly, changed the carpeting to nice hardwood floors, replaced the tile in the kitchen and bathrooms, added nicer carpeting to the bedrooms, and completely redid the walls in all the rooms. I also updated all the fixtures and cabinetry in the kitchens and bathrooms. The recolored objects are almost all used in the bathrooms, where there are nice white toilets and baseless showers.
Flaws
I was surprised to see that I didn't have to do anything unnatural (with the exception of using custom content) to make this house nice. I wish I could've made the bedrooms look a little nicer, as there was no room for plants and more decorations. But all in all, I think it turned out quite well!
In Conclusion
I really hope you enjoy this house, and all feedback is welcome and appreciated!
-Jess
Lot Size:
3x3
Lot Price:
108069
Custom Content Included:
- Mahogany Recolor of Maxis "Moderate" Bed by
HugeLunatic at MTS2
- Oak Recolor of Maxis "Zenu" Bed by
HugeLunatic at MTS2
- Clean Water Shower System by
HugeLunatic at MTS2
- White Recolor of Maxis Cheap Toilet by
perdita_x_dream at MTS2
- Beige Shower Curtain Recolor for Maxis Expensive Tub + Shower by
Kittylynn74 at MTS2