NOT Compatible with 1.17/Late Night!
Note added by MTS staff:
This mod has NOT been updated to work with the 1.17 patch/Late Night, which add the muscle tone and breast sliders.
If you use this mod with the 1.17 patch/LN, you will not be able to change your sim's sex, skintone, or other sliders on the first panel where you name your sim.
Do NOT use this mod with 1.17/LN! Remove any and all versions of the mod you currently have, delete your cache files, and run the game without the UI mod.
Non-default skins can still be used... sort of...
Technically, even without this mod, you can still leave in your non-default skintone packages, just NOT this mod itself. You will only have six skintone "spots" to choose from in Create a Sim, as usual, but if you put your mouse cursor over the little popup display of six and use your mouse's scroll wheel, you will be able to scroll through the skintones you have. Non-defaults will show up with a little icon to show you which they are. Non-defaults may not work with the new muscle slider - this is not specifically a problem with the UI mod, but a problem with the skintones themselves needing updating.
If sims using non-defaults are black/grey/ashen, re-select their skintone in Create-a-Sim, switch clothing types (just select formal or underwear or whatever) and they should be fixed. If this happens to existing sims you may need to use a mod such as Awesomemod or Master Controller to take your sims back to Create-a-Sim.
Again, this mod is NOT compatible with the 1.17 base game patch and the Late Night Expansion Pack!
Do not attempt to use this mod with 1.17/Late Night.
You don't need to report that it doesn't work anymore!
There are already plenty of comments to that effect. Remove the mod as advised and wait for an update patiently, please!


Warnings:


As with any mod, please be sure to check the version compatibility.
Read the FAQ before asking for help in the comments. Chances are, your question has already been answered. If you ask a question already covered in the FAQ, you will be ignored.
Do not upload/share sims that are using an ND Skintone. Set a default skintone before sharing. The sim-sharing system was not designed to handle it. When sharing a sim with an NDST, it will export every piece of the skin file--thats an upward of 30 very large images--into the sims3pack that you are sharing. This is bad: 1) it produces huge sims3packs 2) the game is not discretionary when you install a sims3pack, it will not discover if you already have that NDST installed or not, so it just installs it anyway resulting in multiple copies of the same NDST increasing load times unnecessarily 3) if you uninstall a sim (and per chance, that was the sim where the game was looking for the NDST data) you now caused all your sims using that NDST to go charcoal.
--Conclusion: DO NOT SHARE SIMS WHILE THEY ARE USING AN NDST--
--------------------------------------------------------
Alright, welcome to my first mod. As many have already seen, there has been a development which now enables us to create non-default skin-colors and skins. This discovery is the Tone file. However, to actually use any non-default skintones (sometimes called NDST's), there had to be a change in the way CAS displays the tone-pick box.
What This Mod Does:
In all honesty, it does next to nothing that the game couldn't already do; I just made it so that you can see it doing it.
What it does, is changes the layout of the tone-pick box. By default, the game will only display 6 tones in the default 2x3 tone-pick box. I have made two versions that change the size of the tone-pick box, which allows the game to show NDST's. From a technical aspect, adding non-default skintones without this mod still works--however, one will only be able to see 6 tones in the box without any indication that others exist.
5x5 Tone-pick Box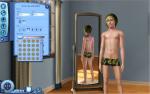 Shown in the image above is the 5x5 layout. It uses the default location for the box. It has been expanded to 5 columns, 5 rows, capable of displaying 25 Tones at once with the added ability to scroll if more than 25 tones are installed.
5x10 Tone-pick Box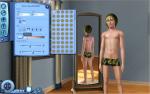 Shown in the above image is the 5x10 layout. It has been moved to the immediate right of the Name, Age, Gender pane. It can display 50 tones at once, again with the ability to scroll if you should exceed that number. The large tone-pick box does have one minor downside: when using display resolutions of 1028x768 or smaller, the box overlaps with the sim while open.
NOTE1: In the two images above, it shows additional non-default tones that are not included in the download. Without additional CC, when you first install this you will only see the six default skin colors.
Example of a Custom Tone:
In the image above is an example of a custom skintone. In the tone-pick box, you can see that there are now seven tone to choose from. Custom tones can each have their own colors (I have customized mine to appear black in the pick box and show my name in the color scale). This skin is a demo skin I created, and at this time is incomplete (no face or scalp). The skin has new mask and normal layers to give it a fur-like texture.
NOTE2: The images above were taken at a 1440x900 display resolution, then scaled down.
Double Slider Range
As was requested, I have now uploaded UI mods that include changes to the slider range for the Fit and Fat sliders. The changes effectively doubles the range of the sliders. These were available before, however, some people didn't want to do it themselves by downloading the the provided layout files and swapping out the package's internal contents. You do not need to re-download if you are happy with normal slider range, or if you have already made the change yourself.
--------------------------------------------------------
Installation Instructions:
You only need one of these, so pick ONE (5x5, 5x10, 5x5 Double Slider, or 5x10 Double Slider) to install.
This is a standard package file. Place the mod in your mods/packages folder.
--------------------------------------------------------
Technical Information:
This mod is a default replacement of the CASBasics.layo file (0x97DB9E9DDA2D2671) found in the UI.package file. The lines that have been modified are: 1931, 1980, 1982, and 1983.
Compatibility:
This mod is known to work with Awesomemod
This mod is known to work with EGC
This mod is known to work with Jonha's Slider Hack
This mod is known to conflict with Drakah's CAS Sliders. Drakah has provided versions of his mod with the expanded tone pick-box, please download from his post if you are interested in using both.
Version information:
This mod works with the following game versions:
Base1.14/WA2.9/HELS3.5/AMB4.2
Base1.12/WA2.4/HELS3.3/AMB4.0
Base1.9/WA2.4/HELS3.0
Base1.8/WA2.3
Base1.7/WA2.2--no longer supported, use at your own risk.
Additional Info:
Tutorial
by Missy Marries for creating new skins.
Skininator
Use this tool to make new non-default skintones. The downloads page there contains all the resources you need to make new skintones.
Read this thread
for more info about the tone file. The first post has a funny story and an outmoded tutorial on hex editing the tone file. Later posts show the development of the info and the making of of app that automates the creation of Tone files.
Model Info:
The model is my self-sim's son, Tannor.
The body skin (first two images) is a default replacement by
Stradlin on A+S Error
.
The face texture is
Kanno's Moonlight Faces on Garden of Shadows
.
The eyes are
Daluved1' Bright Eye replacements
.
The hair is by
Anubis360 available on his blog
.
The underwear is by
Aaroc
Additional Credits:
Daluved, for inspiring my exploration of the UI Layouts.
CmarNYC, for making a tool to put my findings to use.
Missy Harries, for her excellent Duo Tones which I used throughout this project.
Fawkes, for having a set of tones available to utilize this.
Anyone who noticed the easter-egg before reading this far.