Download Quick Preview. Looking for the full download page? Click here.
Swing in your step: 4 H&M swing coats and jeans for teens (base game compatible) by Mikexx2


---
Sometimes teen girls need to look like young ladies. Time to put away the belly shirts, the mini skirts and the short shorts and dress like grandma's coming over for lunch.
Using the mesh made by
@

[email protected]
I retextured the shirts and pants using Maxis textures, and recoloured the jackets and shoes to make 4 hopefully stylish ensembles.
The files are named according to the jacket colour (apple, green, fuschia, charcoal).
The mesh is included in the .rar.
Hair credits:
Brown bob:
by Cold Fire
at Garden of Shadows (free Newsea mesh)
Black: by fainiel
here
(free Raon mesh)
The brown ponytail and blond bun are Maxis hairs.
Enjoy!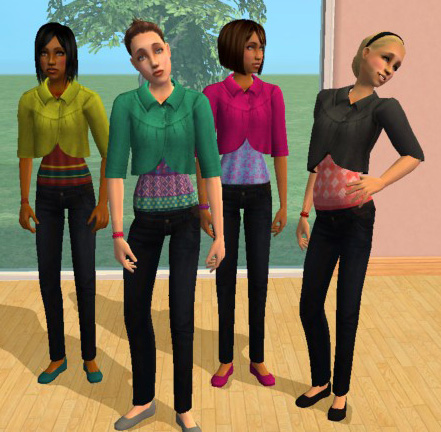 Additional Credits:
Eyes by Selzi/dragonmandy
Makeup by Helaene and Lyran
Dark skintone by Lyran
Brows by Helaene
Walls, floor, window by Maxis
---