Electronic/Lighting Items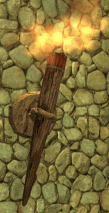 The set is composed by the following elements, all working in any game configuration:
"FireLine" Wall Torch (must have! includes all the needed textures!)
"FireLine" Wall Sconce
"FireLine" Garden Torch
"FireLine" Fence Post and All-surfaces Lamp
INSTALLATION - WHAT ARE THOSE ".NLO" FILES?:
All the lamps use their own
custom light
, that is included in the .package, but (due to a game bug) when exiting and re-entering the lot, the light isn't read from the package anymore. Therefore - unless you want to live with this bug - you need to install an additional, separate light definition files (included in the SimstoneTorchLamps_LightDefinitions_DO-NOT-PUT-IN-DOWNLOADS.zip" archive).
To do that,
the SCRIPTORIUM is required to enable the support for custom lights, and the provided ".nlo" file must be installed in the "Scriptorium_CustomLights" folder, easily accessible from the shortcut in your Downloads.
If a user decides not to install the light definition, the lamps will work fine, but when the lot is reloaded (e.g. after having visited a community lot), the "diffuse" light will be missing, and the light will not be reflected any more by walls and floors (only objects and sims will be hit by the light).
Please note that this is a game limitation: some Maxis objects, too, have the same problem, and don't emit any light after reloading the lot; but installing the separate light definition solves the problem
RECOLOURS
The Wall Torch is the Repository object: create a recolour for it and it will automatically apply to the whole set.
SNAKE REMOTE
NOTICE: this is NOT a buyable object; you will NOT find it in the catalogue.
This remote control is needed for several Simstone electronic device to work properly. In particular, the devices that need the Archeo-Snake remote are:
Simstone 'Stylobird' Record Player
Rocketeer 15" stand-alone TV set
Stony 27" TV set RO-CK01

If you don't install the remote in the downloads (or you remove it), all the electronic equipment will work fine anyway; only, no remote will be shown in the sim's hand.
IMPORTANT: this object needs the "Archeo-Snake remote control" (downloadable separately) to work properly.

This state-of-the-art Simstone record player has a built in radio too!
Its modern design used the latest dinobird and dinoturtle technology to bring you some real 'rock' music... and because dinobirds and turtles live for a long time, it's guaranteed never to break down...(well, not in your lifetime!)

RECOLOURS
Fully recolourable (except the record, that is always black) using Object Workshop. Stand-alone object.

GAME COMPATIBILITY
The record player works in any game configuration.
Table Phone
: The handset is
rotated by 90°
, so now it rests in an
horizontal
position,
unlike
the Maxis one
Recolours: The table phone is slave to the wall one, so that recolours for the latter will apply to both. The RAR contains three packages, all required for the phones to work properly.
NB: The recolour feature is
better
than the CEP one used on Maxis phones: now the handset gets
automatically
the right recolour when you go to live mode
[/B]