Replies: 3 (
Who?
), Viewed: 1175 times.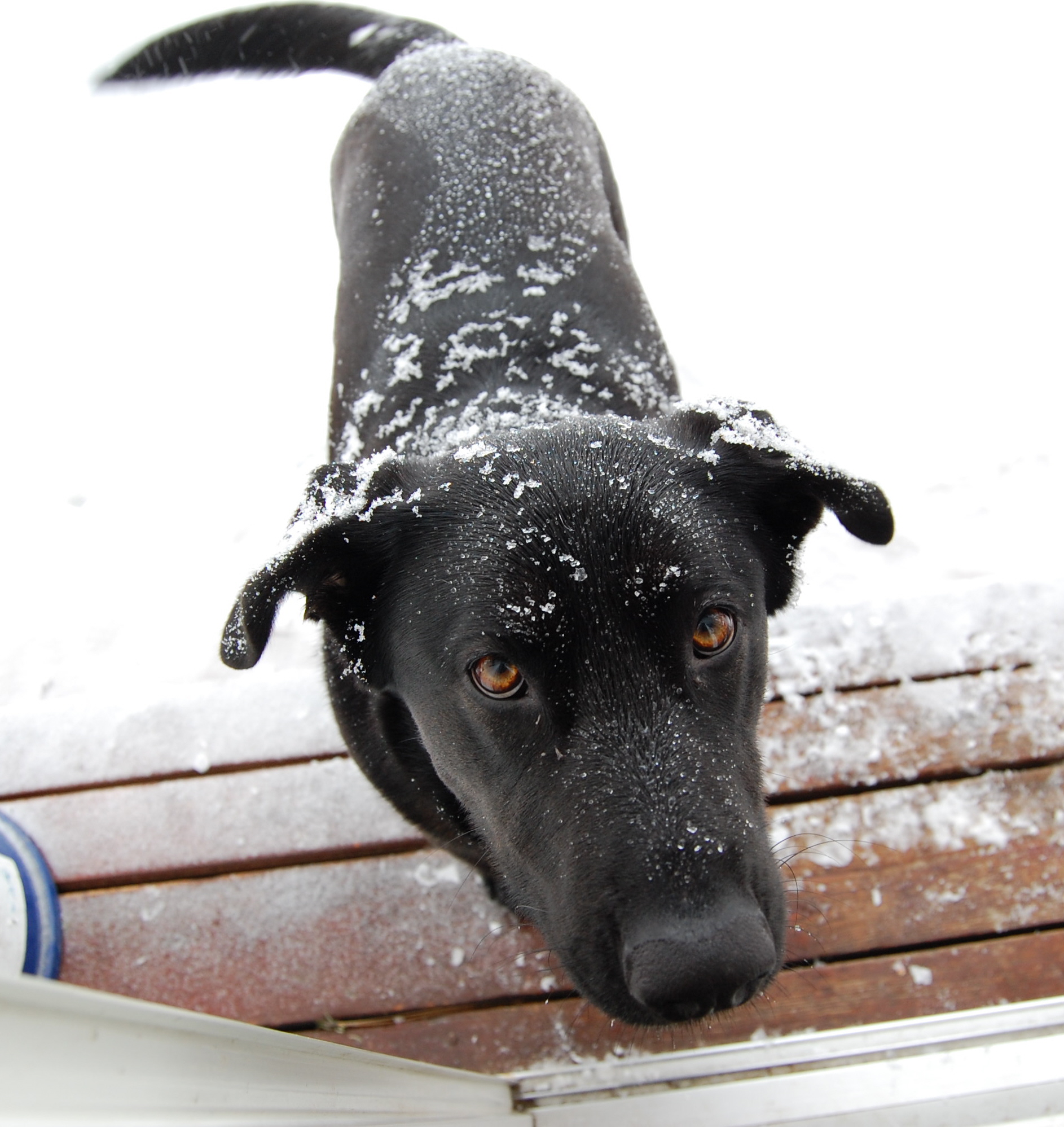 Test Subject
Original Poster
#1
18th Jul 2018 at 1:58 AM
The Tiny House Project - Gamma
Background: Hi there! So I recently started playing Sims 3 again, and decided I wanted to dust off the old building abilities and challenge myself by making homes with limited space, similar to the 'Tiny House' homes that seem to be becoming more and more available in the real world each day. This particular house is based on a 5x5 internal space and on a 10x10 lot. The goal in making these is to get everything a sim needs into the house while, of course, also making it look good. I made a few rough 7x7's before this to test, and I found I still had a lot of space left over, so I could certainly go smaller. Before starting though, I did look for inspiration and found
This Youtube video from The Sim Supply
of a similar build of a 5x5 home build in the Sims 4. So to get started, I used that particular house as a template for this build done in the Sims 3, before moving on to some other homes. That being said, I still think this is the best one I've made so far (at least in this style), and decided I want to try to submit it to MTS.
If approved, this would be my first upload, so beforehand I definitely want to get opinions and help regarding both the house itself, and the Description I'd have to give to it, making sure it matches MTS standards. I have been doing my best to follow the
Lot Upload Guidelines I found Here
, but I think It's important to double check before bothering upload queue moderator with my request :P
So without further ado, here is a rough draft of my description and required information! Feel free to comment on anything. Queue my best house saleswoman voice:
Title: The Tiny House Project - Gamma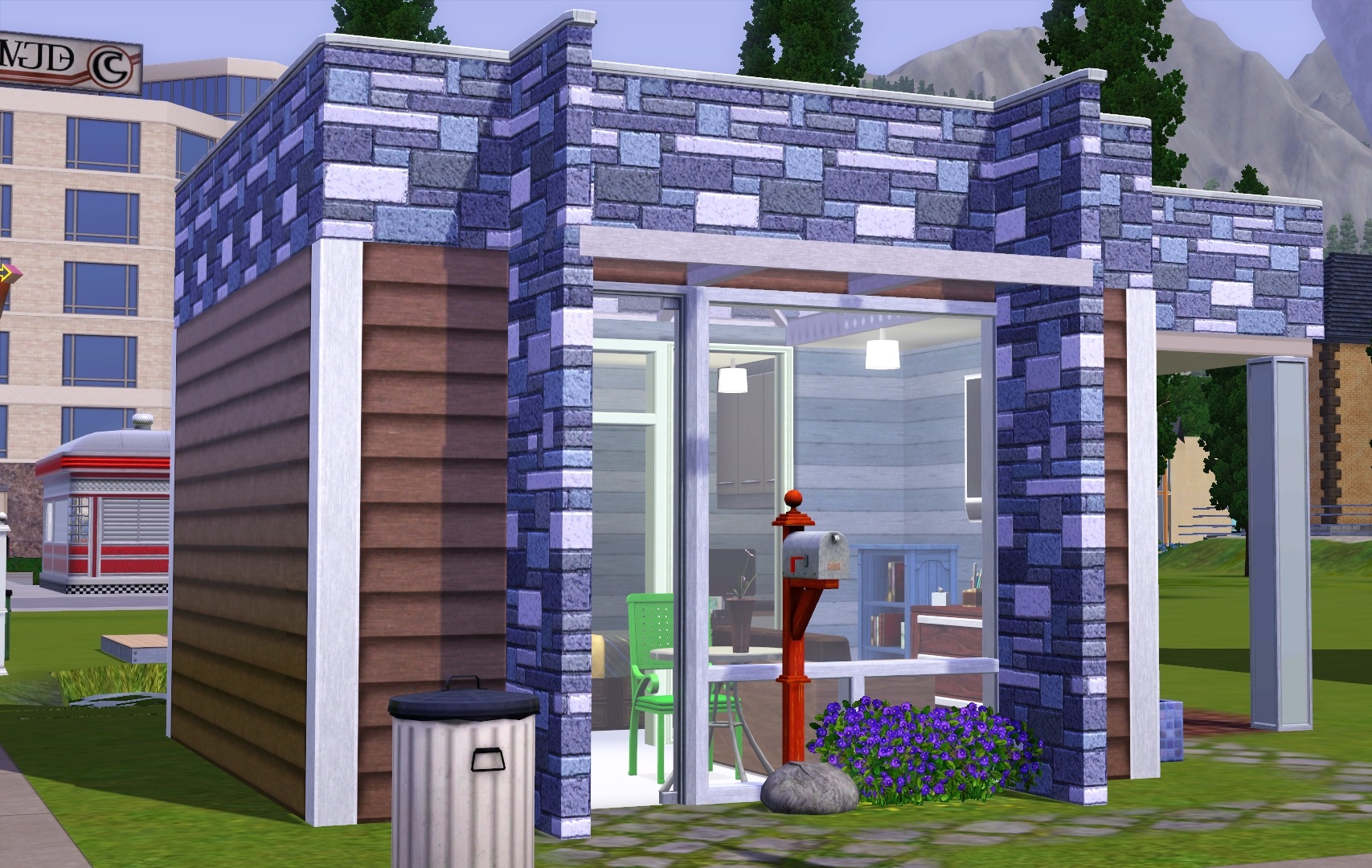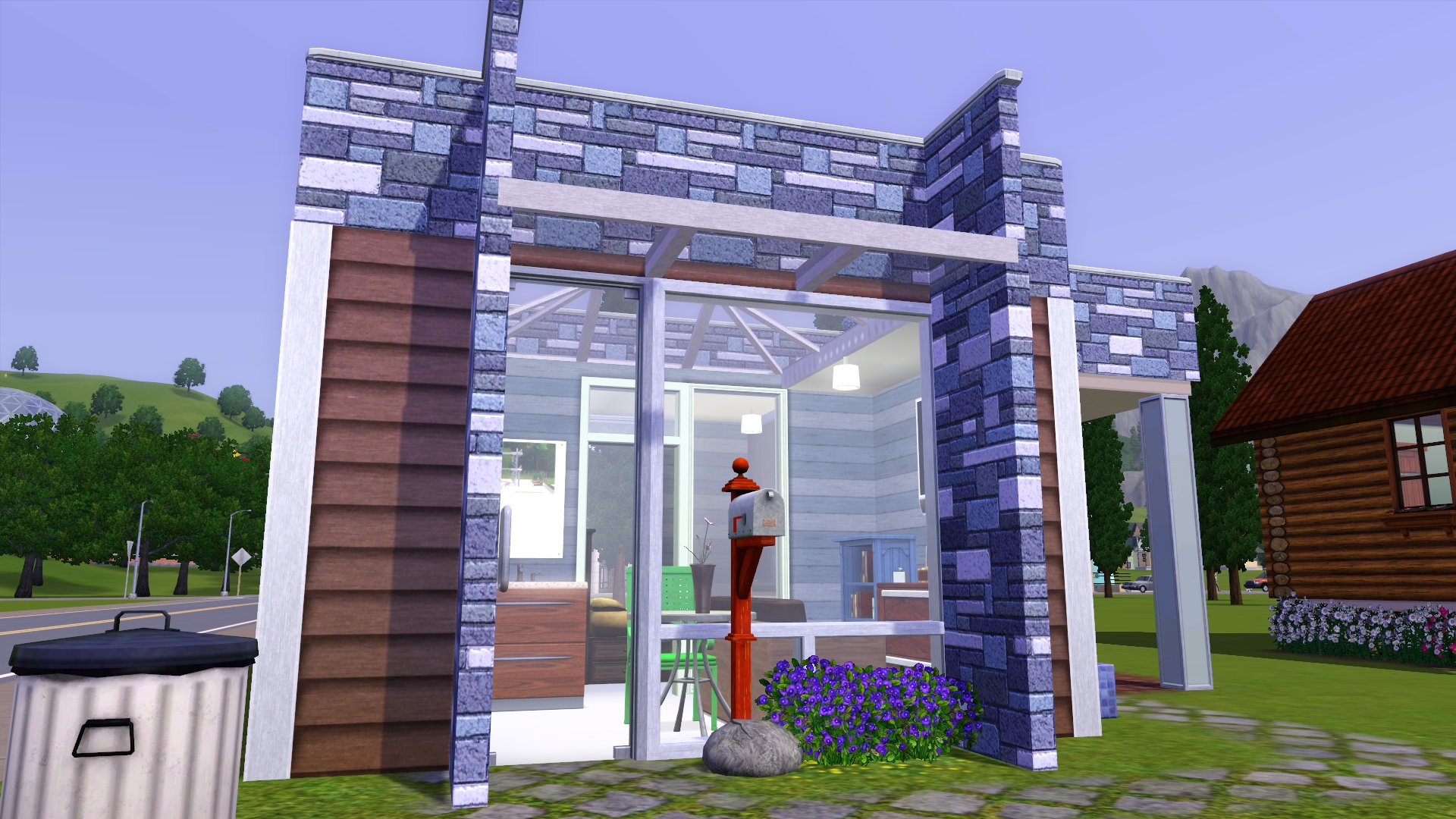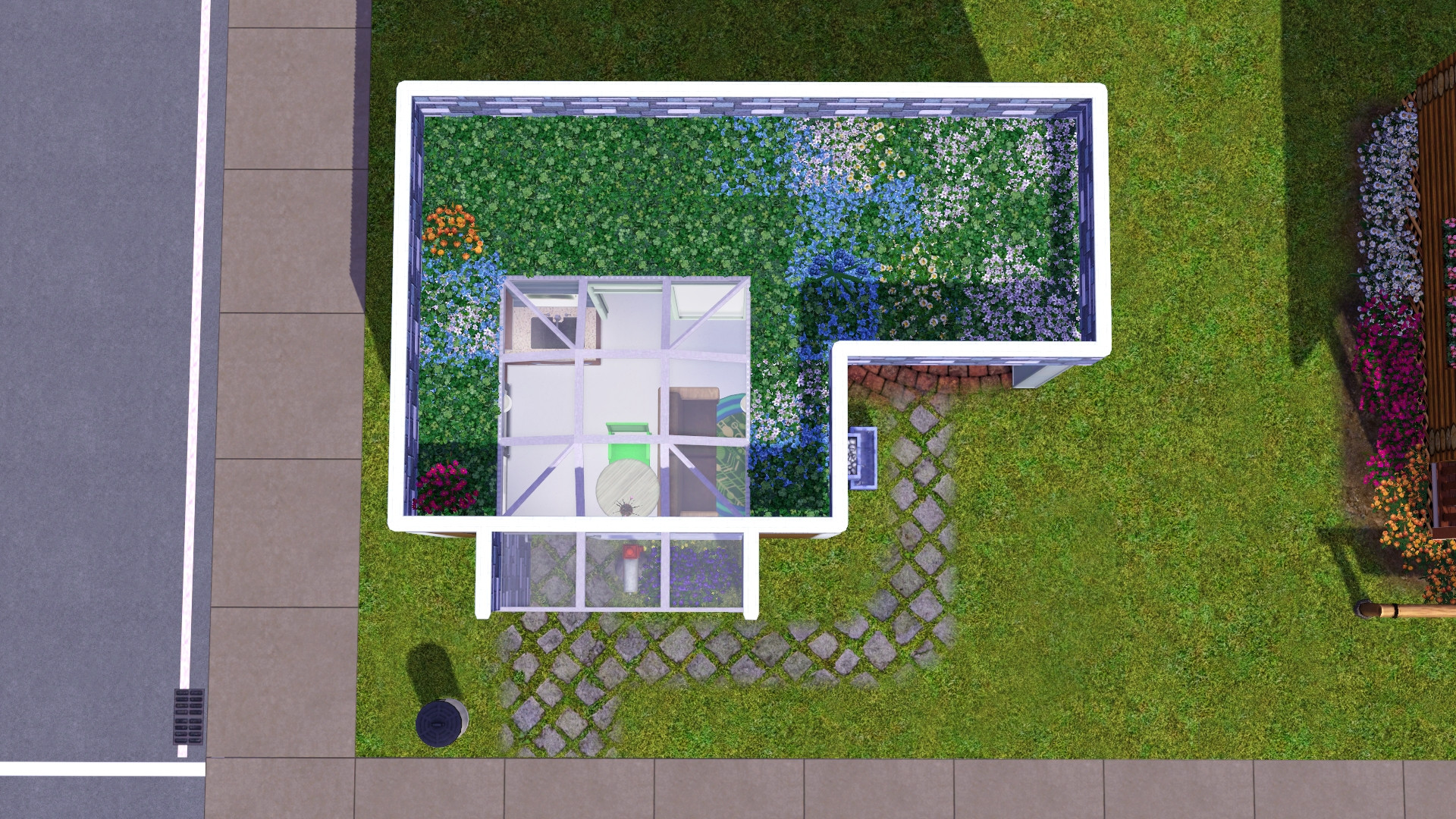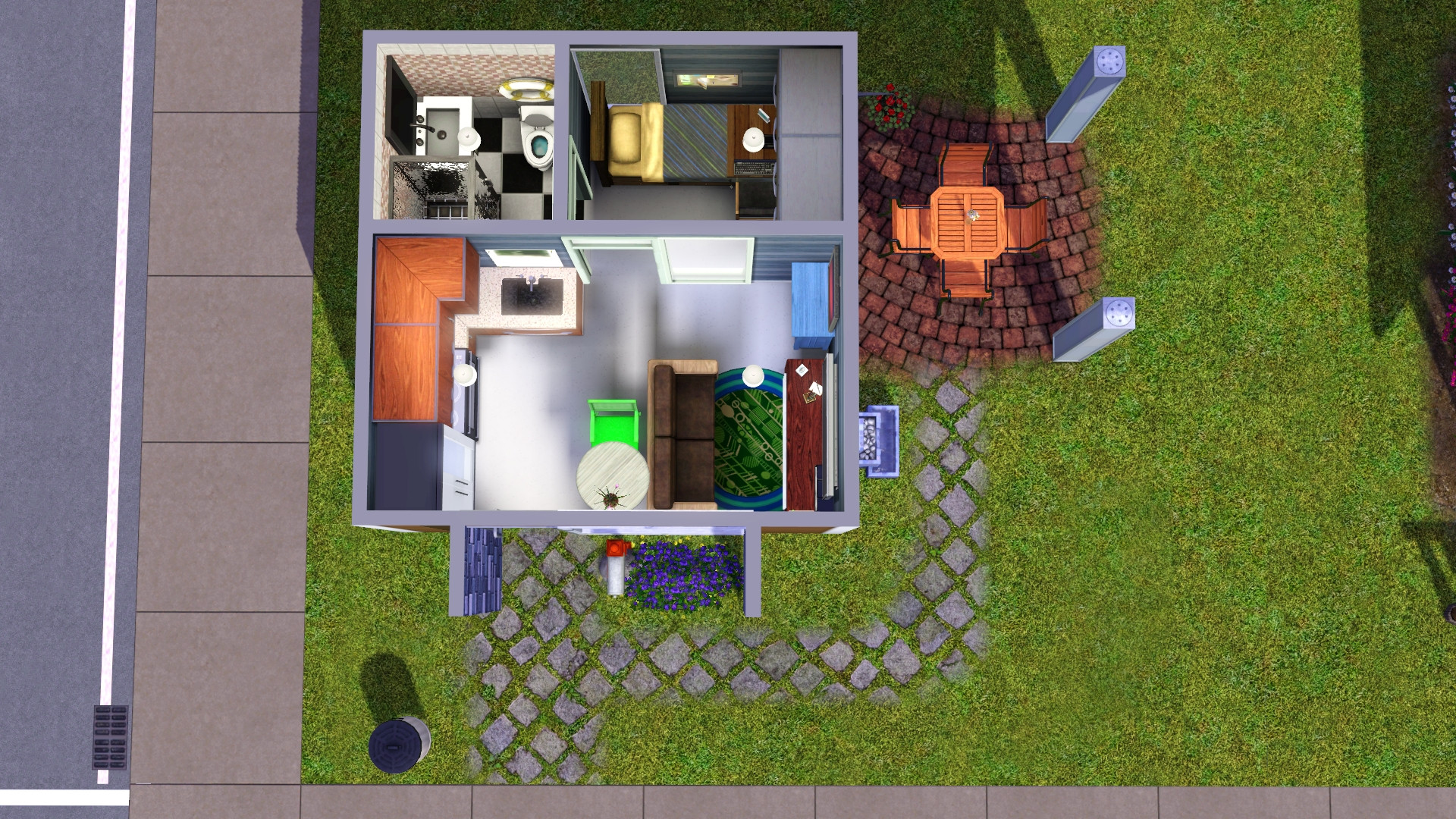 Lot Size: 10x10
Lot Price:
Unfurnished: $16,814
Furnished: $28,652
Game Version Built in: 1.69
Required EPs/SPs: Pets
Description: (Background portion here again)
With somewhat of an Ultra-modern design, this tiny house contains a full kitchen, one bedroom and one bathroom. All objects are completely functional and are built for a max permanent capacity of one Sim, though a few guests can be had over without the living areas feeling too cramped.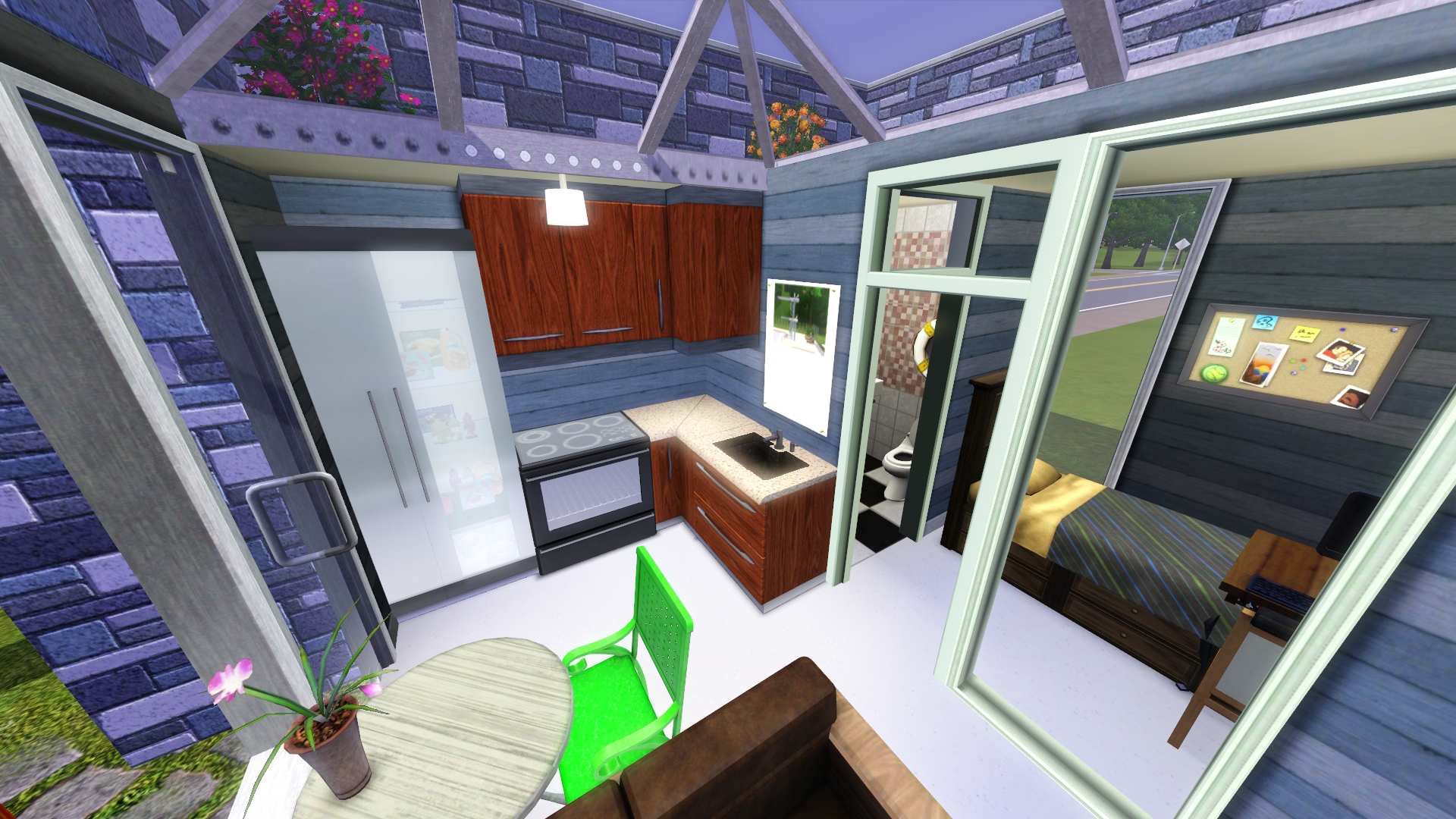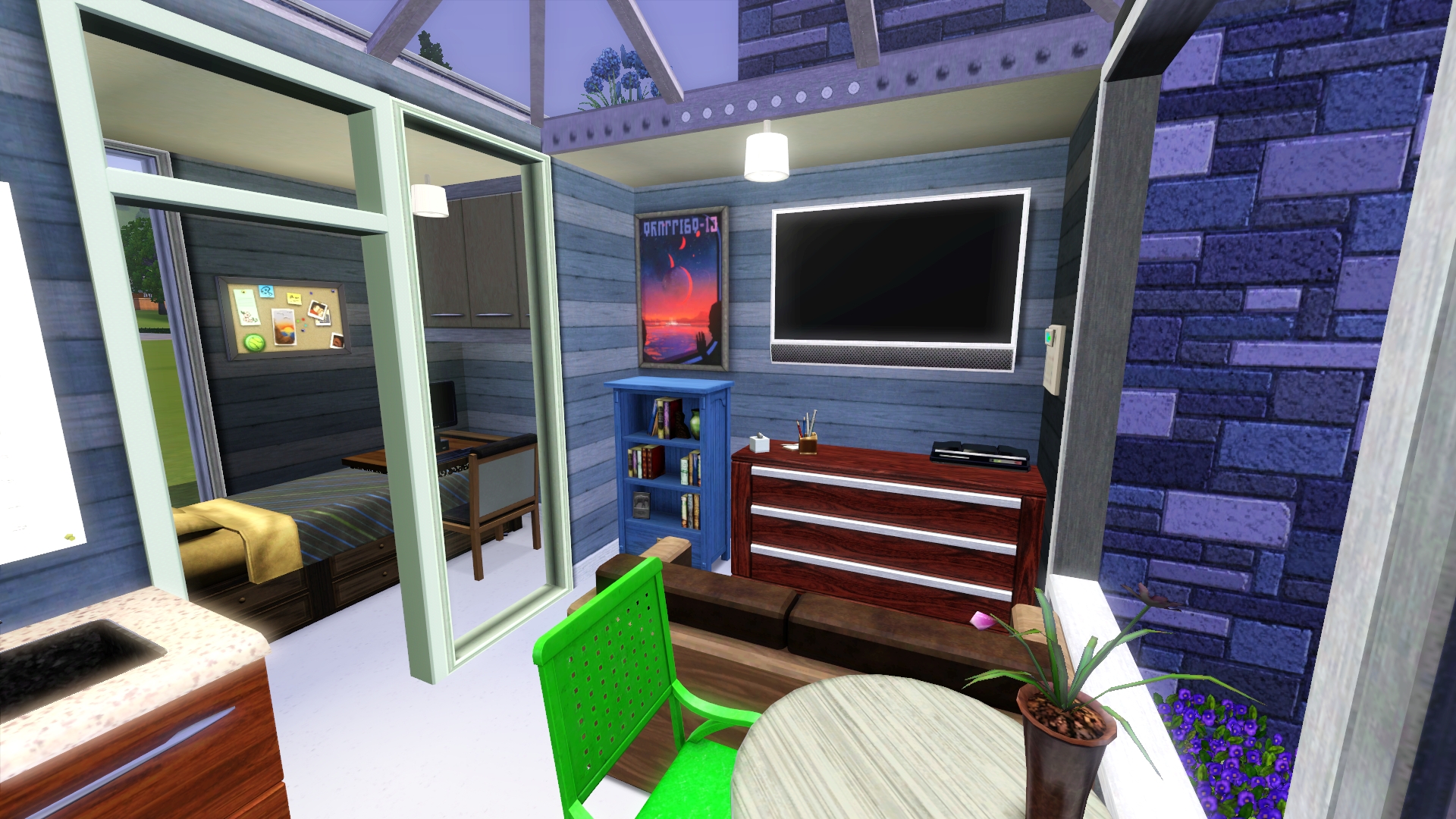 The main room is the combination kitchen, living, and dining room. The kitchen comes with a stove, oven, refrigerator and usable counter space, allowing for nearly any meal to be made, a sink for cleaning, and plenty of storage space. The dining table does only seat one, as the Sims 3's mechanics made it impossible to fit another working chair in, but it does provide a unique and refreshing splash of color to the room.
In the living room area, we have our bookcase, television, and game station for entertainment, as well as the Sim's dresser for changing and storing outfits. It also allows for a nice view out the window for wherever you decide to place your tiny home, as well as a calm sleeping nook.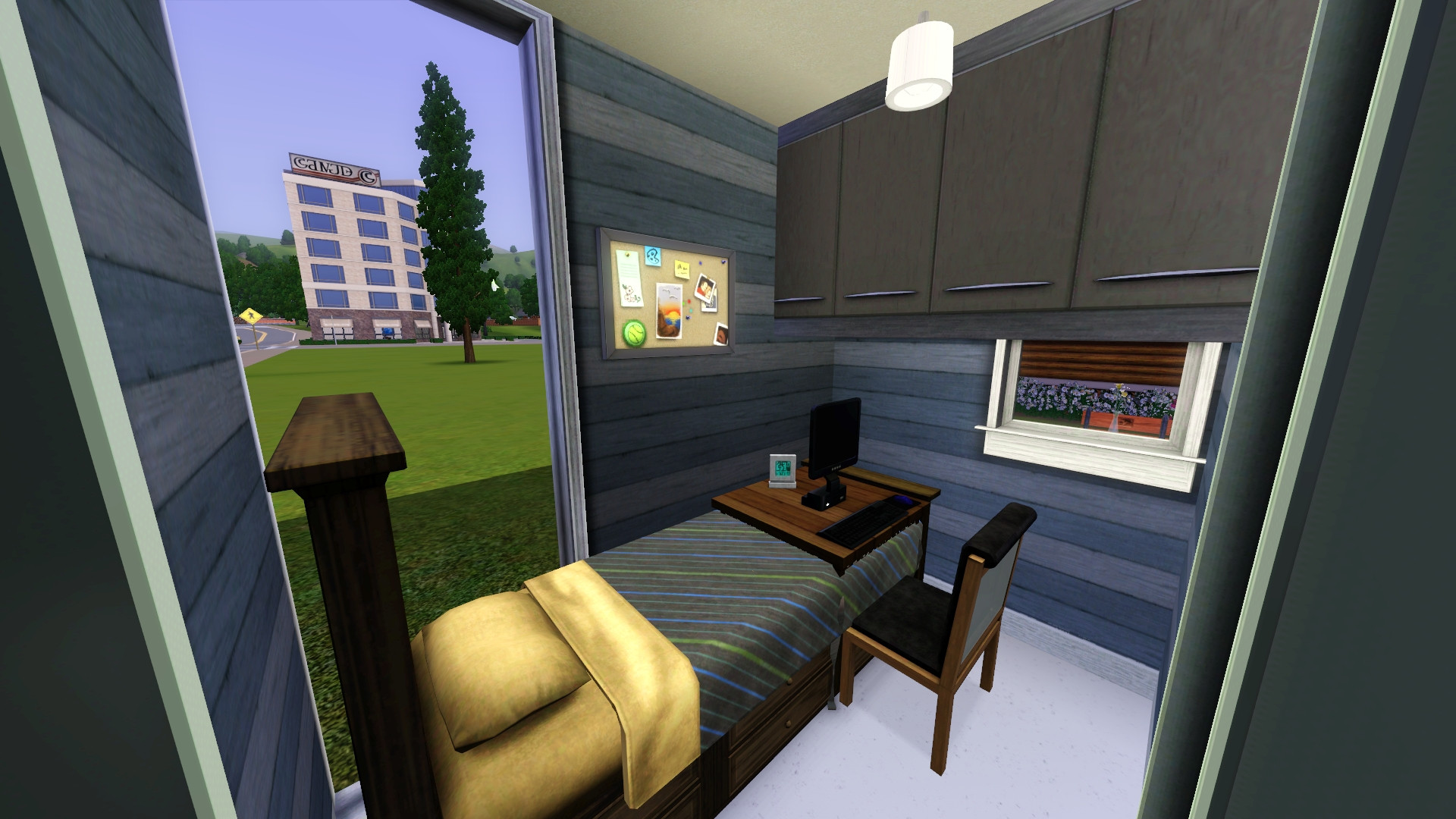 In the bedroom, a clever work around was used in order for Sims to have a computer to use. Using moveobjects, we were able to create an over-the-bed desk (something I've seen is actual tiny homes) to save on space. The computer, the chair, and the bed are fully functional, though sometimes the sheets may end up on top of the desk when a Sim is sleeping, depending on their position.
The restroom, while small, is not too cramped and has a warm atmosphere for all your hygiene and bladder needs.
A rooftop garden takes advantage of the rain and sunlight to grow some lovely flowers and help save the enviorment, and Sim's can moniter it's growth through the skylight in the living room. Finally, the outdoor patio
The tiny house costs $28,652 fully furnished and sits on a flat 10x10 lot, so you should have little trouble fitting it wherever you like in your neighborhood!
The Pets Expansion Pack is needed for two objects: The Sassy Classy Dining Chair in the living room, and The Gnome'ink Dining Table, which is used for the over-the-bed desk. So if you don't have Pets, you could still use this home, as long as you find replacements for these two items that suit your needs.
CC used (but not included with download):
Daz Matze's Skylights -
http://www.modthesims.info/d/470183
The 2013 MTS calendar -
http://www.modthesims.info/d/494644
Morphead's Stand-alone TV's -
http://www.modthesims.info/download.php?t=440618
celty007's Retro NASA Poster Set -
http://www.modthesims.info/d/606221
and most importantly, Morphead's High-End Condo Stuff Pack (
http://www.modthesims.info/d/442824
), which is amazing and better than any official stuff pack I've ever seen.
I also recommend downloading the Half walls Fixed mod by simsi45 (
http://www.modthesims.info/download.php?t=597434
).

Needs Coffee
retired moderator
#2
18th Jul 2018 at 2:46 AM
A picture of the lot overall is not required but is a good idea to show the garden. You will get away with those floorplans only because your lot is tiny. On a larger lot your floorplans would be too far away and we see this a lot- people take a shot showing all the surrounding garden + neighbours/road, when all we want to see is your floor plan layout and furniture placements. With the floor plan zoom in until your building fills the shot but does not have parts cut off. So zoom in until all the road, footpath and most of the grass disappears from your shot. I do Sims 2 and 4 lots so it won't be me moderating your lot, but close floor plans will make your moderator happy.

Think of your floor plan as being different from an overall shot.
Your links look good. If you send a downloader to a set and only used a few items, say which items you used. Also only need for one link not multiple going to the same set. An example will be that the wizard picks up 8 items from a set of 20 and will give you 8 links. This will make your upload look messy and people might pass it by thinking they have to go download a whole heap of things. So if that happens once you reach the description tidy the links up manually. Again this isn't a requirement, just a bit of advice.
---
"I dream of a better tomorrow, where chickens can cross the road and not be questioned about their motives." - Unknown
~Call me Jo~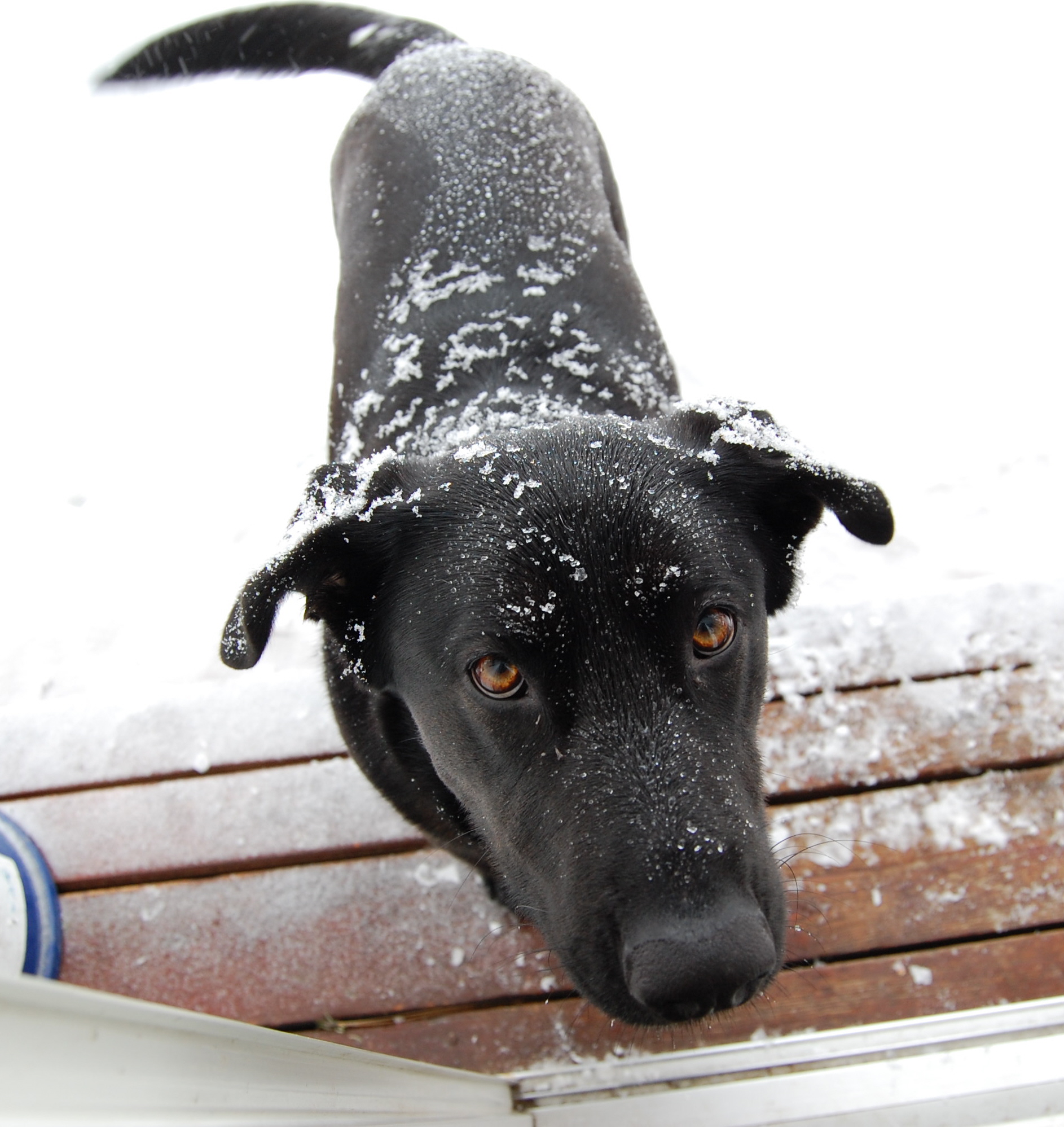 Test Subject
Original Poster
#3
18th Jul 2018 at 4:53 AM
@joandsarah77 Okay! I checked all the download links and the only one that did have multiple links was the skylight, and I used all of them anyways XD, but I'll keep that in mind when I get to the wizard

.
I attached two more pictures to this that should fit that definition for the floor plan, and tried to cut as much out as I could

Needs Coffee
retired moderator
#4
18th Jul 2018 at 5:07 AM
Yes, those are great. I do recommend an overall shot of the whole lot as well even though it isn't required, only that landscaping is judged and if the moderator can't see it well enough to score they might send back a cr.
I know you are planning more lots so I was thinking ahead with the links. So if you used all the items in a set one link with a description of all of them will do. The Wizard will give you 8 links and nobody wants to click 8 links and find they all go to the same place. Plus people don't read, they look. They will see 8 links and assume 8 sites to get content from.
---
"I dream of a better tomorrow, where chickens can cross the road and not be questioned about their motives." - Unknown
~Call me Jo~
Back to top