Weird Alpha-Mesh transparency
I read through most of the threads with similar titles but it didn't solve the problem.
I'm trying to get the alpha layer of one of my meshes able to fade instead of the "all or nothing"-default.. uhm.. you know.. just like
this
. But as soon as I try changing the needed strings in
SimPE
the Mesh shows up with weird transparency in game. I tried several times and re-built the alpha mesh part again and again from the beginning but it just does not work like I want it to. I can minimize the problem by altering the alpha mesh or its inner layer, but it won't let me solve it.

The values in
SimPE
look perfect as do the bones, just the goddamned alpha-part doesn't.

This one really drives me mad.
The left one shows the best result I got.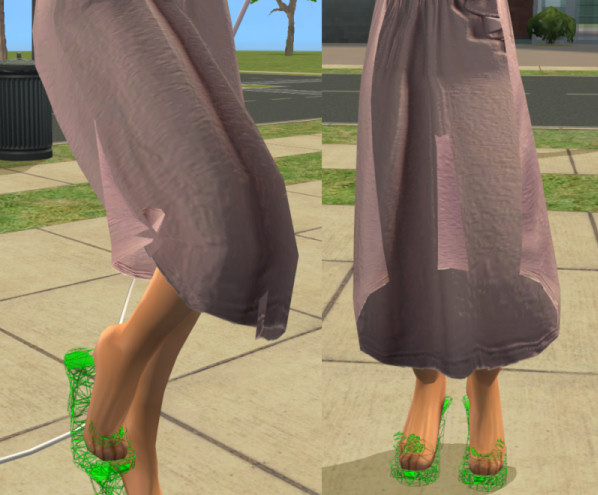 Don't mind the shoes, they're not completely mapped at this point.
I made the same alpha-changes to other meshes about a thousands times and it worked without any problems.. So I am wondering if this might be caused by the higher poly count of this one (well, not really "high", currently 4966 - but there is a good reason for this). If I don't change anything and keep the alpha like it is, the mesh works fine. The Recolor I've chosen for both dresses on the pics to link my meshfile to is the Base Game afbodyhulaskirt.
Sorry for my bad english, I woke up just a few minutes ago

---
Do not send any Requests, please. I do not have the time for it.
There will be NO female versions of anything of my male stuff. Never ever.
You may convert it for your own personal use if you want to.. I won't do it.